SERVICE IS WHAT WE DO AT MBI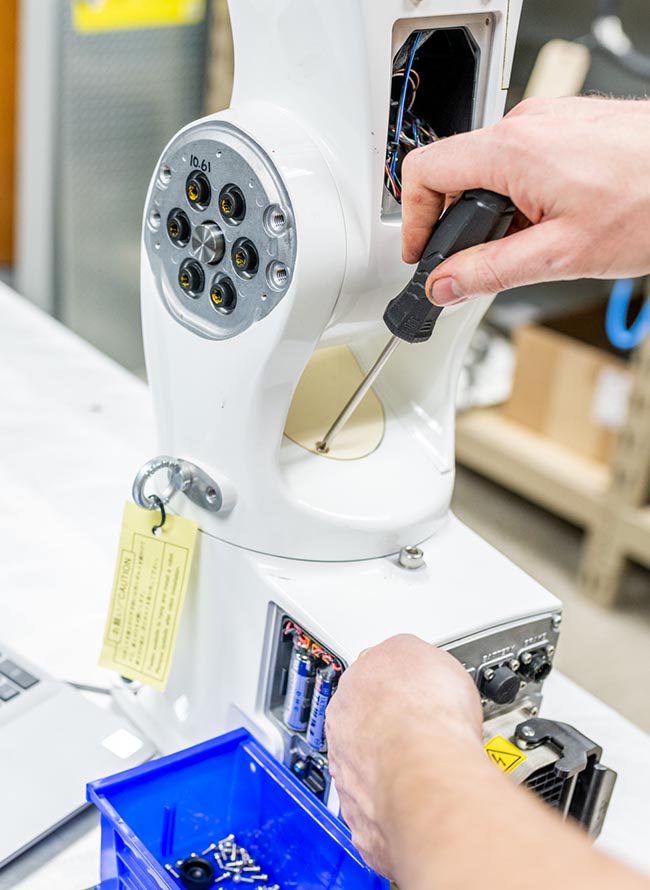 SPARE PARTS
Our customers turn to us when their robots have worked for so long, that parts aren't even available anymore. That's when we work together to upgrade. Because MBI has done controls and robotics for both OEM's, machine builders, and end users, we are uniquely qualified to evaluate your current process and guide you through upgrading your system.
ROBOT SALES
The best robot application starts with the right robots. We have worked with many companies across the country to start a project right, with the right robot. For many projects, we live with the robot throughout its entire life, from specifying the right arm all the way through preventative maintenance and repair. We know how to choose a robot that will outlast your entire product life cycle.
THE HELP YOU NEED AT THE SPEED YOU NEED IT.
When your robot takes a line down, when you don't have enough controls engineers to integrate your machine on time. MBI believes in a real partnership in service, your goals are our goals. We succeed and fail together.
Sometimes, next-day isn't soon enough. We have access to the full catalog of spare parts needed to service your DENSO Robots, but we also keep an essential selection of spare parts in stock in Grand Rapids, MI. This allows us to provide the fastest possible repair experience.
As a controls integrator we work as an extension of you. Controls can't live in a bubble, and we understand that. That's why we consider our expertise, your goals, and your customers needs to provide solutions that work; work for the project and for the budget.
CONROLS DESIGN
Every project starts at the beginning and in controls that means solid design. If you need help building your automation on a solid foundation, we have brilliant design engineers that can provide some of the best controls design in the industry.
PARTNERS IN AUTOMATION
Each of our customers has different needs, and we fit the bill regardless of the size of the project. To some of our customers, we are the controls department of their business, we quote and concept together, we provide a turn key panel and programming, and we see the machine through run-off. Whatever part of the puzzle you need, we fit that shape.
MACHINE UPGRADE AND SUPPORT
MBI doesn't work on machines that we build, because we aren't a builder. That means we know how to work on other companies' equipment. So whether you're buying a cookie cutter machine and want to customize, or have a machine that's no longer supported, we can step in and pick up where you left off.